Maja is a very good friend, one of those people you know almost all the life.
She is a part of lot of my memories..happy and sad ones, a person with whom we can spend hours together without speaking a word. We though the same way, we loved a same things.
Now we live more then 3000km away, and we speak from time to time, exchange mails, see each other when I go back home, but even if we try hard, we are not there for each other, we don't exchange our daily experiences and I must admit by the time we got apart....
Some time ago she sent me a recipe for these beautiful cookies and I though they were great.I wanted to share recipe with you..but what I would like most is to share them with my friend Maja while having a long conversation about all that we could remember, important and unimportant things.
Orange and White Chocolate Cookies
80g butter
1 orange
70g sugar
300g flour
1ts baking powder
100g white chocolate
1 egg
Preheat the oven to 180C.
Put the butter, sugar, juice and zest of orange and chocolate in a bowl and melt it in a bain-marie.
In the other bowl mix flour and baking powder.
When chocolate mix is ready, gently add an egg and fold in dry ingredients.
If mix is still sticky add a bit more flour.
Make small balls with your hands, place on the baking sheet and gently press them. Bake for 10-12min (they have to stay white, don't let them change the colour).
If you like , sprinkle some icing sugar over the cookies and they are ready!!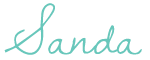 P.S. These cookies make a great Christmas present. Tie them with twine and place in box, put your imagination working {*smile}